James River Blog
Tuesday, June 6, 2023
Kyle Cohoon Named General Manager at Charlotte, NC Location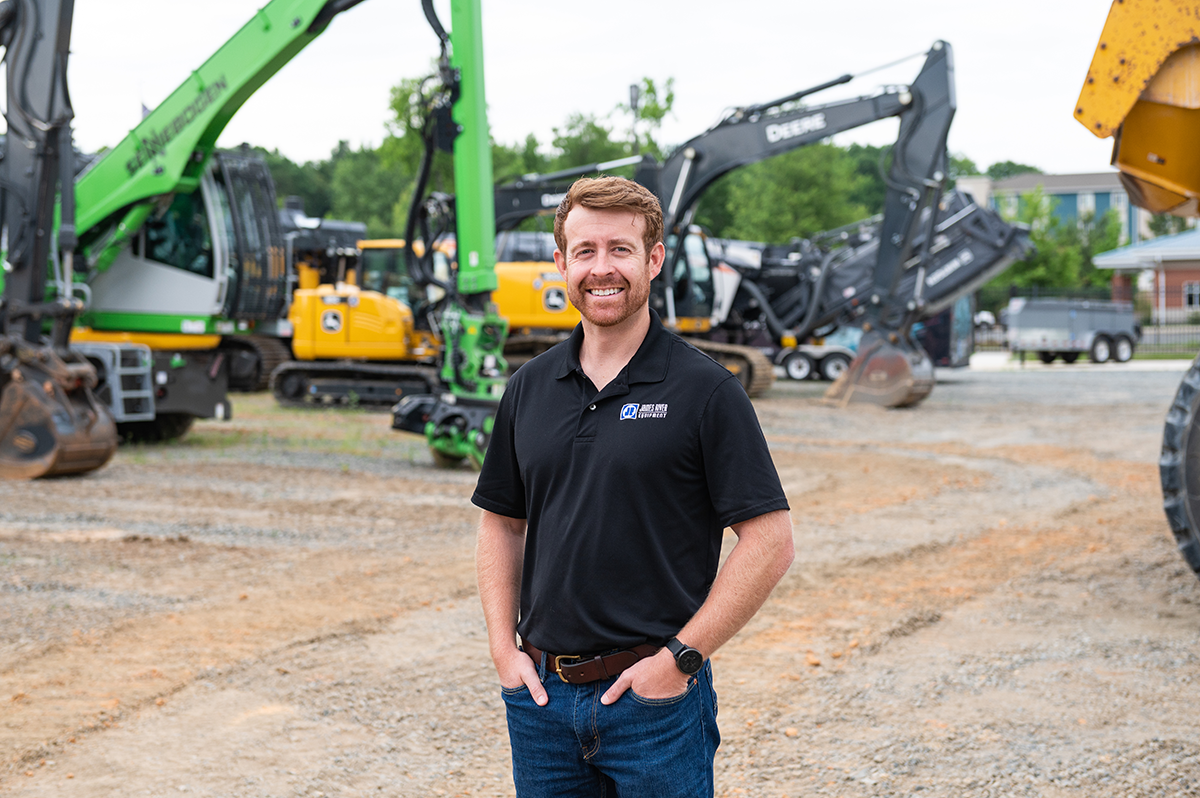 James River Equipment is pleased to announce that Kyle Cohoon, who served as the Charlotte Assistant Manager for the last three years, has been promoted to General Manager of Charlotte. According to Executive Vice President Terry Thomas, Cohoon has earned this role as a result of his incredible commitment, work ethic, and passion for the business.
"Kyle has a passion for our industry, James River Equipment and John Deere that is infectious, he genuinely cares about every employee and helping our customers solve their problems and challenges." - Terry Thomas
As General Manager, Cohoon looks forward to being put into a position where he can better serve customers and employees."It's not just about putting up numbers, it's more about creating a culture that is infectious to be a part of," Cohoon said. "Our success is directly tied to our customers' success. It doesn't matter what the role is in the company, we all play a part in making sure our customer base is taken care of. Our customers vote with their wallet every time they come to purchase a machine or parts and service, and I want us to be the dealer of choice every time." Cohoon came to James River Equipment in 2019 after spending nine years with John Deere. At Deere, Cohoon served as a Territory Customer Support Manager before becoming the Territory Sales Manager for James River Equipment, Coastal Equipment, and Leslie Equipment.
It didn't take long for Cohoon's wealth of experience to make an impact at James River Equipment, where he filled many necessary roles. "As he came over to work with us, he quickly took on whatever task we assigned him," Thomas said. "After his first year, he had put on several of the dealership hats." During his first two and a half years at James River Equipment, Cohoon worked as the Compact Construction Equipment (CCE) Sales Manager where he organized all CCE efforts in the Charlotte metropolitan area. After that stint, he relocated to Raleigh for five months to fill a critical gap. When Cohoon returned to Charlotte, he served as Assistant Manager where he worked on day-to-day branch level operations and further developed relationships with the Charlotte team and their customers. According to Thomas, Cohoon was the perfect fit for new this role due to his "genuine desire to help the team and customers have the best possible outcome in their work lives and in their personal goals."
Some of Cohoon's biggest inspirations at James River Equipment have been Terry Thomas, Western North Carolina Sales Manager Ted Doran, and Chairman of the Board Mark Romer. "Terry Thomas and Ted Doran have been mentors of mine even before I was with the company," Cohoon said. "They have both invested a significant amount of their personal time in my development and have let me learn from their experience. I'm also very grateful for the opportunity Mark Romer has given me to represent the company. His vision and passion for the business is unlike any dealer I have ever worked with, and I am grateful to be a part of this team."
James River Equipment would like to congratulate Cohoon on his expanded role.
Go Back to List